Posted by WKF head office on July 28th, 2012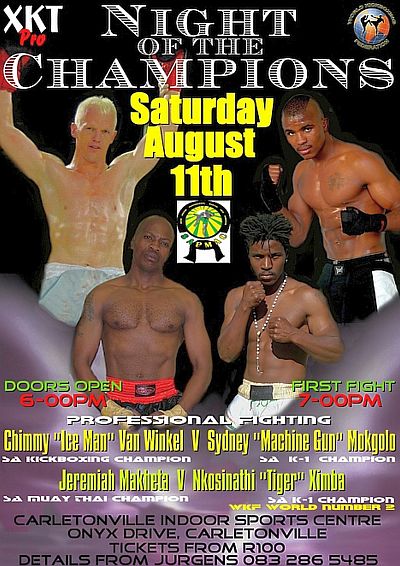 WKF Professional Event – August 11th 2012
Well known Johannesburg promoter XKT Pro are hosting a WKF pro event in the mining town of Carletonville about an hours drive to the west of Johannesburg.
The event lives up to its billing as the two main fights feature four of the countries professional champions.
WKF world number 2, South African K-1 champion and world Muay Thai title hopeful Nkosinathi "Tiger" Ximba is embarking on professional fight number 20 against the older and more experienced South African Muay Thai champion Jeremiah Makheta.
Many see the fight as a title fight build up with the winner challenging the loser to a title match up with the loser defending his current crown.
Twenty one year old Ximba has never fought Makheta before and as with all Muay Thai pros he will be expecting a tough battle over five rounds of three minutes.
The Tiger has much to live up to as Carletonville is only a 30 minute drive from Ximba's home base in Randfontein and a big following is sure to travel to support the local hero and massively popular fighter who only three weeks back had the whole back page of the newspaper to himself under the heading "Tiger sets out to conquer the world"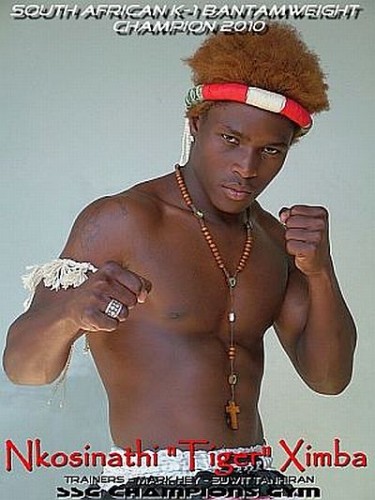 Trainer and manager Mark Hey says the Tiger's training is well on schedule with three weeks left and that he has never seen his charge of 8 years more psyched up for a fight.
(XIMBA is now 1st contender for the WKF World title fight in Vienna, Austria, in October 2012 and promoter knock-out.at confirmed the fight !)
The other main fight features the vastly experienced South African Kickboxing champion Chimmy "The Ice Man" Van Winkel who at 34 years old is still in peak condition and has more titles to his name than his opponent has professional fights.
He is a stunning technical fighter and Kickboxing specialist who having suffered two first round defeats to his young opponent in 2009 in the explosive Extreme Striking series (basically full Muay Thai in MMA gloves) will be looking to stamp his authority in his specialised fighting discipline.
With over 70 professional fights to his name the Ice Man will be taken very seriously by his opponent who is 20 year old Sydney "Machine Gun" Mokgolo.
The Machine Gun having won everything at amateur level turned professional as soon as he was allowed to devastating effect as to date he has 17 professional fights in K-1 and Extreme Striking with 17 wins and 16 of them being by knockout.
One hell of a record for such a young and ambitious pro.
He has lost a full year of meaningful competition when the new moneyed MMA crowd pulled him away for a very unsuccessful year of deceit and lies and at best very amateur management and training on the pro MMA circuit.
He has returned home to the HeySports WCT camp to join Tiger Ximba who he grew up with from a junior trining only in the stand up fighting arts and the fight with the "Ice Man" is seen as a very serious return especially as the youngster has never fought the high kick only discipline before.
Fight fans can be guaranteed of an awesome nights entertainment and Mokgolo's stunning record guarantees him a place in the forthcoming WKF African K-1 Superleague where he will once more cross swords with the Ice Man although this time in his speciality.
A detailed report of the event will be sent out shortly after the big night.